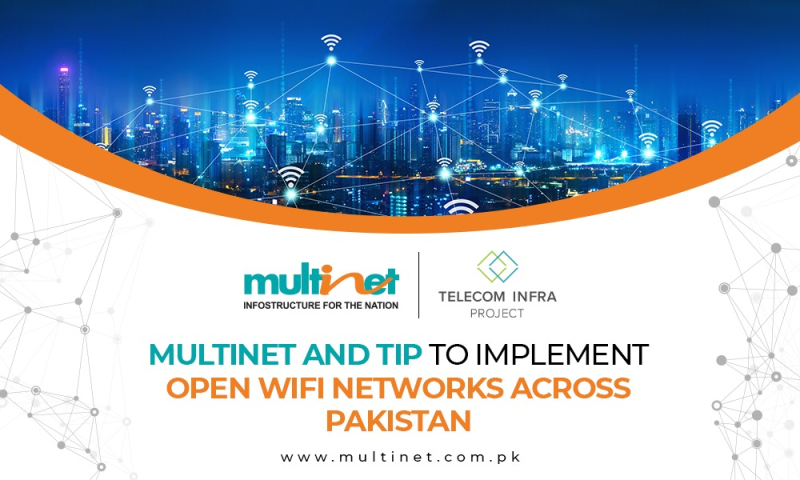 Mutinet and TIP will soon be implementing Open Wifi over its fiber network that spans the entire country, covering more than 120 cities, across more than 14,000 kilometers, and commits to providing Open and Disaggregated Solutions for the people of Pakistan.
Multinet Leads Innovation with Region's First Open Wi-Fi Deployment
Pakistan's Top Service Provider Building Open and Disaggregated Wi-Fi Networks based on TIP's technologies across Communications Footprint.
– Karachi, Pakistan, February 21, 2023
Multinet, Pakistan's business communications company of choice, today announced that it is deploying Telecom Infra Project's OpenWiFi technology to power Wi-Fi networks across the country. Multinet's OpenWiFi networks will provide seamless high-speed connectivity for public, hospitality, sports and entertainment, and retail enterprise customers.
Well-known for leading-edge telecom solutions to Pakistan, Multinet is the first managed service provider in the region to deploy OpenWiFi's technology stack to provide the general public and customers with seamless, fast, and affordable connectivity.
Multinet has been providing quality public Wi-Fi across Pakistan, covering all major airports, various public places, malls, and recreational areas with its Wi-Fi infrastructure with the objective of "Connectivity for all."
"Our singular mission is to deliver superior connectivity solutions for Pakistan and reach out to the public and masses with our public Wi-Fi initiative," said Adnan H. Zaidi, Chief Operating Officer at Multinet. "By using open and disaggregated technology, such as OpenWiFi, we will continue to lead the market with innovation that delivers exceptional service, quality, and reliability for the public, our customers, and stakeholders. With superior scalability, this will greatly scale up our public Wi-Fi footprint and reach."
"OpenWiFi is the perfect solution for Multinet because it offers competitive total cost of ownership (TCO) and eliminates vendor lock-in," said Sandeep Kohli, Connectivity Technologies and Ecosystems Manager, Meta and member of the TIP Open Optical and Open WiFi Program Groups. "It also eliminates the need to introduce additional controllers opening new deployment use cases, such as Wi-Fi networks built for the public, hospitality, sports and entertainment and retail segments, not previously addressed due to cost considerations in these markets."
"Multinet is leading the region in open and disaggregated technology deployments and we're excited to see how OpenWiFi will benefit Multinet's customers," said TIP Executive Director Kristian Toivo.