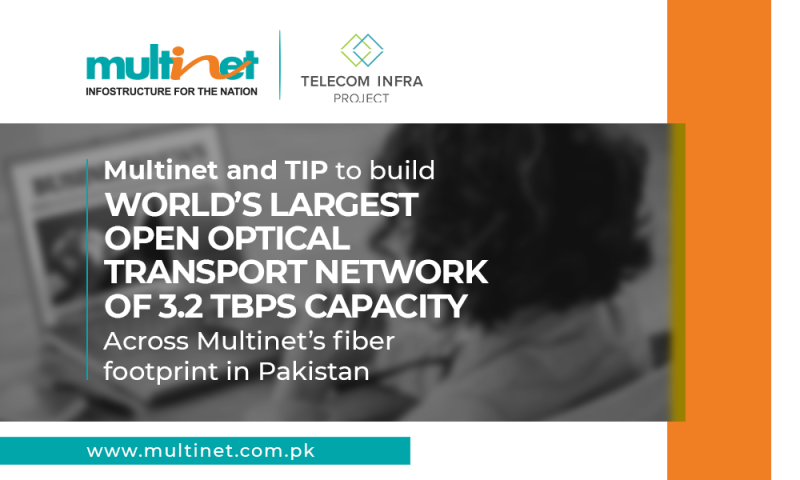 Multinet and TIP to build the World's Largest Open Optical Transport Network of 3.2 Tbps capacity across Multinet's Fiber Footprint in Pakistan
Multinet Commits to provide Open and Disaggregated Solutions for the People of Pakistan.
– Karachi, Pakistan, February 16, 2023
Multinet, Pakistan's business communications company of choice, today announced that it will be upgrading its optical transport network that spans the entire country covering more than 120 cities, across more than 14,000 kilometers.
Greatly expanding capacity, this long-haul network infrastructure deployment upgrades the network with 3.2 Tbps capacity using Telecom Infra Project (TIP) Open Optical framework which has been designed to provide better connectivity around the world. This project will be the world's largest Open Optical framework implementation and the network upgrade will not only enable Multinet to bring agility and hyper scalability to the immensely growing bandwidth demand in Pakistan but will also add more cities and towns to Multinet's fiber network, hugely increasing the data and internet access capacity to urban, semi-urban and rural areas across Pakistan.
"When we decided to upgrade our long-haul network, we knew it had to be built with an approach to make it agile, scalable, and sustainable and that becomes possible with an open and disaggregated technology. That's the future of telecommunications and it is why we went with Open Optical and Packet Transport technologies, the network upgrade also brings home the world's largest Open Optical framework implementation which is a first for Pakistan and I am proud to share this landmark achievement," said Adnan H. Zaidi, Chief Operating Officer, Multinet. "Open networks, like this deployment, will streamline operations and accelerate innovation."
TIP's mission for the Open Optical and Packet Transport initiative is to create open and disaggregated technologies, architectures, and interfaces for Dense Wavelength Division Multiplexing (DWDM) and IP networks. Open Optical transport networks have been called a "megatrend" by Sterling Perrin, Principal Analyst for Heavy Reading, and he predicts it will have a major impact on architectures in the coming years. Multinet's long-haul network infrastructure deployment features software and hardware from TIP's Open Optical ecosystem and industry-leading players including Edgecore, IP Infusion, and Smart optics along with local System Integrator partner in Pakistan, STARCOM Technologies (Pvt) Limited. Multinet's upgrade incorporates Cassini, TIP's disaggregated coherent switch and open packet transponder built by Edgecore Networks, and IP Infusion's OcNOS, the industry's full-featured network OS for white box disaggregated network solutions that provide the scalable transition from traditional networks to open and agile networks.
"This is a shining example of Mulitnet's ongoing commitment to bringing modern, cutting-edge technologies to Pakistan," said Sandeep Kohli, Connectivity Technologies and Ecosystems Manager, Meta, and member of the TIP Open Optical and OpenWiFi Program Groups. "Multinet believes in open and disaggregated technologies including Open Optical and Open WiFi. That's why they are known as one of the most trusted infrastructure partners in the region."
"Multinet continues to demonstrate its leadership with its use of open and disaggregated technologies to drive modern connectivity solutions in Pakistan," said Kristian Toivo, Executive Director, of TIP.
"We strive to be the recognized leader in all communications, market segments, and markets we serve and this network upgrade supports our vision," continued Adnan H. Zaidi.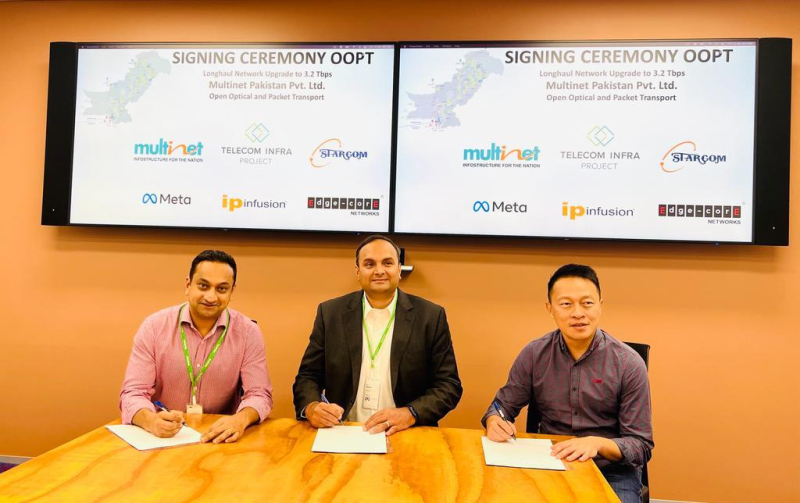 In Picture, from left to right: Mr. Vishal Mathur – (TIP), Mr. Adnan H. Zaidi – (COO Multinet), Mr. Bryan Tan
ABOUT THE TELECOM INFRA PROJECT
Telecom Infra Project (TIP) is a global community of companies and organizations that are driving infrastructure solutions to advance global connectivity. Half of the world's population is still not connected to the internet, and for those who are, connectivity is often insufficient. This limits access to the multitude of consumer and commercial benefits provided by the internet, thereby impacting GDP growth globally. However, a lack of flexibility in the current solutions – exacerbated by a limited choice in technology providers – makes it challenging for operators to efficiently build and upgrade networks. Founded in 2016, TIP is a community of diverse members that includes hundreds of companies — from service providers and technology partners to systems integrators and other connectivity stakeholders. We are working together to develop, test and deploy open, disaggregated, and standards-based solutions that deliver the high-quality connectivity that the world needs — now and in the decades to come.